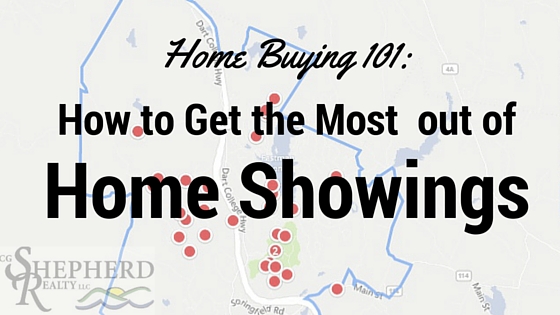 So you've been looking at homes online for a while now, maybe even setup a saved search to email you properties that seem to be a good match. But now you're ready to take your online home buying search offline. The next step for most people in the home buying process is to schedule home showings to view properties in-person.
Home showings are not typically very long. Most are scheduled to range between 20-30 minutes, depending on the size of the home. So how can you get the most out of that limited window of time? Here are some showing tips for home buyers to get the most out of showings.
Selecting What Homes to View
First, you need to decide what homes you actually want to view in-person. Home showings take time for you, your real estate agent, and the current resident of the home. So you need to narrow down your list of homes you want to see. Here are some ways to do that:
Look online at property details and photos multiple times.
Solidify your "must-haves". These are features of the home that are deal-breakers. You and/or your partner need to be clear on what those features are.
Ask questions ahead of time. If you are wondering about some features of the property or have questions about information you don't see or don't understand on the MLS sheet, ask your real estate agent. Your Buyer Agent can get the answer to see if the home makes the cut to the must-see list.
Ask your Realtor for additional recommendations. Your local realtor is a wealth of information and has likely been inside many of the homes that are for sale before. He or she may know of a property that just came on the market or can recommend another that maybe didn't come up in your initial search.
Caution: If You Can't Afford It, Don't Go See It!
When you're deciding what homes to see in-person, know your budget. You don't want to fall in love with a home you simply can't afford.
There are reasons for that listing price (square footage, great features, views, etc.) that warrant the price tag. If you see that and then see the homes that are truly within your budget, you'll likely compare them and be disappointed. It can also make it difficult to commit to the right home for you right now.
Yes, it can be disheartening to know you can't afford that dream home yet, but save yourself the heartache, stick with homes in your price range, and consider saving up for that dream home in the future.
The Logistics of Scheduling Home Showings
Some home buyers will call the listing agent of every home they want to see to schedule a showing. This is another instance where having a Buyer Agent is a great asset. One Buyer Agent can make all those calls for you and efficiently schedule a series of home showings.
An experienced real estate agent considers factors like allowing driving distance between properties, overlapping showing windows, and planning the best route that will be a great time saver for everyone involved. Your Realtor can also realistically recommend how many homes you can see in a given timeframe so you don't get overwhelmed.
Wouldn't it be helpful to have a professional walk you through each home, answer questions you have during the showing, and be a sounding board for comparing and contrasting homes afterward? Those are just some of the things a Buyer Agent can do for you.
Is There a Need for Speed?
Your final step of preparation is to know the pace of the current local real estate market. Again, your Realtor can answer this question. You can also ask other people you know who are currently looking or have recently bought or sold a home in the same area.
In a fast-paced market, if you don't make an offer today, someone else will tomorrow, or later that afternoon. In a moderate or slower-paced market, you have more time to process what you see and weigh your options before deciding whether or not to make an offer. Find this out ahead of time so you're prepared with the right mindset going into the showings.
If you're ready to take the next step in your home search in the Dartmouth-Lake Sunapee Region, contact us at CG Shepherd Realty, LLC to find a Buyer Agent who will help you schedule home showings and represent your best interests throughout the home buying process.
Read How to Get the Most Out of Home Showings (Part 2) for practical tips to optimize your time inside each home.